<![if !vml]>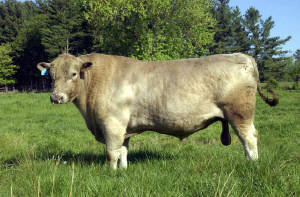 <![endif]>Katuna Courageous (Corey)
Scores "Double-Double"
Four Stars for Tenderness and
Marbling Genes
Coolville, OH, USA, and Goulburn, NSW, Australia -
Genetic DNA marker testing has identified the
purebred Murray Grey bull, Katuna Courageous (U8),
nicknamed "Corey," as one very special bovine. In
cattle producer terms, this young sire is a "Double-
Double." In scientific terms, Katuna Courageous is a
"double homozygous" bull for the favorable genes of
meat marbling and tenderness.
This finding means that Corey carries two copies of the favorable form of the GeneSTARÒ bovine
marbling gene PLUS two copies of the favorable form of the GeneSTARÒ bovine tenderness gene.
Because the genes reside on totally separate and different chromosomes, they are not highly linked. Fewer
than 5 % of all cattle on earth are double-double for these traits, making Corey highly prized, not only
among Murray Grey sires, but also throughout the cattle world. Since Corey is a double-double, each of his
sons or daughters is guaranteed to inherit one copy of the marbling gene and one copy of the tenderness
gene, with the companion copy of each respective gene coming from the mother of the calf. Hence, all of
Corey's offspring will be at least single-single, or heterozygous, for marbling and tenderness, as a minimum.
The testing company, Genetic Solutions Pty. Ltd., uses its high-tech GeneSTARÒ diagnostic DNA tests to
determine the presence of these traits on bovine chromosomes. It posts the results on its global public
access GeneSTARÒ web site page at http://www.geneticsolutions.com.au. On September 23, 2003,
Genetic Solutions posted the results for Corey - "a double-double." He is the only Murray Grey bull
residing in North America reported to date, to carry the unique double-double genetics.
The highly coveted, but seldom realized, double-double genetics are important traits to beef cattle
producers, and to meat producers and consumers as well. Numerous surveys of consumers by the beef
industry in North America have shown that meat eaters want a consistent product that is flavorful and
tender. Marbling imparts the desired flavor characteristic. Identification of beef sires carrying these traits,
to pass on to their offspring, allows producers to select the best sires to use in improving their herds.
Ultimately, the consumer of meat from those improved herds will be obtaining the beef he wants, every
time he buys meat at his supplier or grocery.
This DNA marker technology is already revolutionizing the beef industry. Major cattle operations such as
the King Ranch in Texas and three DroughtmasterÔ breed studs in Australia are screening their sire
batteries (several hundred bulls per battery) for those bulls that have the most copies of the favorable
genes. Only those bulls that score high will be maintained as stud sires.
Katuna Courageous was calved at Katuna Murray Grey stud on October 4, 1999. Breeder David
Llewellyn of Katuna decided to mate one of his best cows, Kaltara Nora 388, to Orcadia Park Knight
Rider. The result, some nine months later, was the arrival of Corey. At his only show appearance, when
he was 11 months old, Corey won the 9-12 month bull class at the Royal Melbourne Show in September,
2000. Then an impressive 1197 pounds (544 kgs) and with a rib eye muscle area (EMA) of 14.3 square
inches (92 square cm), he was described by the judge Jodie Harvey Foster, as "An outstanding stud sire
prospect.....able to meet any market."
When Corey was 13 months old John and Mary Ellen Wozny of Spectrum Farm, Coolville, OH purchased
him. He then entered quarantine to begin the long journey to the USA, and arrived in Ohio in May, 2001.
Spectrum Farm brought Corey to the USA as a live-animal import, making him the first Murray Grey bull in
about 20 years to enter the USA from Australia. Corey was destined, right from the start of his new life at
Spectrum, to be a stud sire for the Spectrum brood cowherd. He is now the junior herd sire in residence.
One of the key goals of Spectrum Farm in bringing him to the USA was to increase the size and scale of
their Murray Grey purebreds, without adversely affecting efficiency in production or ease of management,
traits for which the Murray Grey breed is renowned. Now a maturing sire approaching four years of age,
Corey stands 60 inches (152 cm) at the hip and weighs 2700 pounds (1227 kgs).
Corey's semen was collected in Australia prior to his departure, and then again, after he arrived in the
USA. Large quantities have been shipped to South America, where Brazilian cattle producers are using his
genetics to improve the quality of their beef animals. Small supplies of semen have been kept in Australia,
for sale within that country, and in North America, for sale to beef producers here. Spectrum Farm
genetics, in the form of embryos sired by Corey, out of the Spectrum cow named Daylily, were purchased
by Quebracho ranch, headquartered in Asuncion, Paraguay. These embryo transfer calves are now about
four months old, and are the first purebred Murray Grey beef cattle in Paraguay; see
http://www.quebracho.net/
- end -
Contacts:
Australia - David Llewellyn, Katuna Murray Grey Stud, Goulborn, NSW 2580, 011-61-24-848-1240,
E-mail: davidllewellyn@ozemail.com.au
Website: www.ozemail.com.au/~davidllewellyn/
USA - John and Mary Ellen Wozny, Spectrum Farm, PO Box 112, Coolville, OH 45723, 740-667-6191,