Milo's development gave us confidence as we received information about Milo's full baby brother, Katuna Courageous ("Corey").
Corey was born on October 4, 1999, at Katuna MG Stud, Goulburn, NSW. Breeders: DR & WR Llewellyn
Birth Wt: 87 lbs, 39.5 kg -- Tattoo: LLE U8

Sire: Orcadia Park Knight Rider K79
Dam: Kaltara Nora 388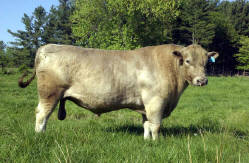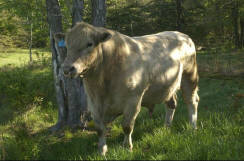 Corey's Background: Katuna
and Corey's Brother, Milo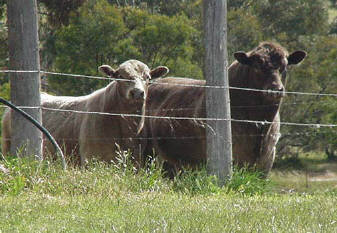 First there was Katuna Millennium ("Milo").
At Katuna Stud in Australia, David Llewellyn produced the dark Murray Grey Bull, Milo, and displayed him with great success, including:


1999 Royal Melbourne
Supreme Murray Grey Exhibit
2001 Royal Canberra
MG Feature Show Supreme MG Exhibit, and Winner of the Herb Barlee Memorial Trophy

While searching for the best new bull genetics to add to Spectrum Farm, we studied the reports of Milo's development. His scale, balance, good-feet, thickness, and disposition were excellent.
(Click on the photo of Corey and Milo to link to the Katuna web site for more about Katuna and Milo.)
Corey (on left) and his big brother, Milo (on right) at Katuna, 1999
Then Came Corey --
Katuna Courageous

Pictures of Corey at Thologolong Quarantine, March 2001,
just prior to export to Spectrum Farm, Ohio, USA.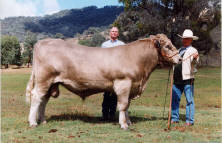 Our thanks to Murray Sutherland and Dr. Rick Tindale of the Quarantine Centre, and to Simone Heather and Chelsea Withers of Holbrook Breeders for the pics taken at Thologolong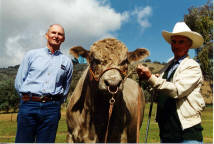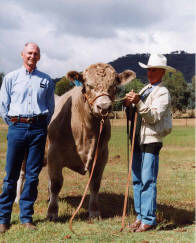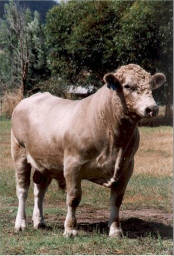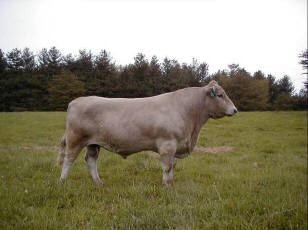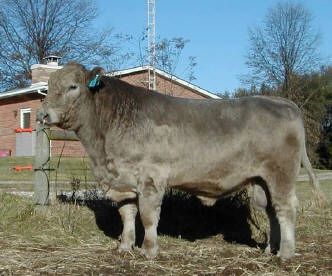 Corey Growing and Gaining Condition Post-Collection, December 2001

On Early Spring Grass, March, 2002

The result: Our first Corey calves -- Produced via AI of our own females with Corey's semen. Semen was used since Corey was at Sire Tech for the 2001 breeding season.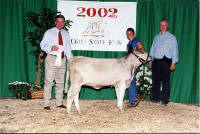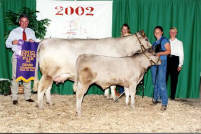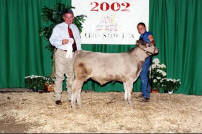 Spectrum Farm Corey Calves at the 2002 Ohio State Fair
Reserve Champion Jr. Bull, Made Right Lucky
Reserve Champion Jr. Female, Spectrum Precious
Cow/Calf Champion and
Grand Champion Female, Merestead's Lacey with
Made Right Lucky at Side
Additional Info about Corey taken when he was Three Years Old:
(See Pictures at top of this Page for Corey at Three.)
Weight: 2700 lbs (1225 kg)
Hip Height: 60 in (152 cm)
Scrotal Circumference at Age: 46.5 cm
Registration Numbers for Corey
MGF Registration Number: 111344
MGBCS Identifier and Registry Number: LLE U8
MGI Regis: T-[USB]FB204M-AUS
AMGA Regis: 51046

Estimated Breeding Values (EBV)
And now the new finding that Corey is a Double-Double --
carrying both of the Tenderness and both of the Marbling Genes!

For Double-Double story, click on links at top of this page.
For semen sales information, go to "For Sale" page then "Semen" page.
For progeny sales information, go to "For Sale" page and then click on the appropriate sex page.
Corey at three years old.
Corey at three years old.



Corey -- Developing into a Big, Bold, Balanced Murray Grey Sire
with Clean Lines and Good Feet
Corey's Travels
Entered Quarantine in Australia: January, 2001
Arrived at Los Angeles (LA Station): March, 2001
Released from USA Quarantine (LA): May, 2001
Immediate Transport and Quarantine at Sire Tech for S. Amer. Semen Collection: May, 2001

Arrival at Spectrum Farm: September, 2001
At his new home at last!






Top Quality Murray Grey Beef Cattle & Genetics